How the regions were selected?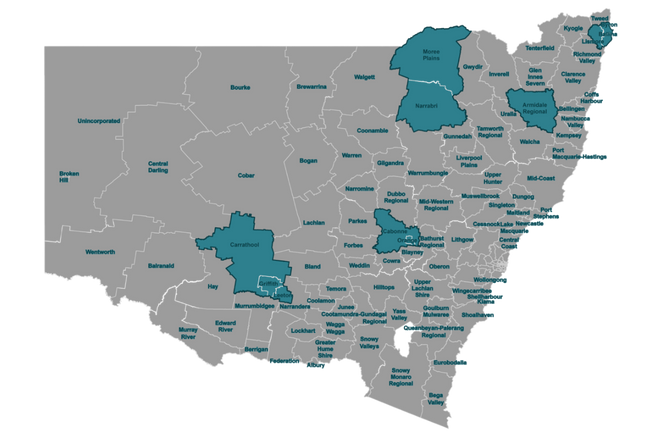 The Farms of the Future program is an expansion of a small pilot that was run in Blayney, Coonamble and Narromine in 2019/2020.
The program is being delivered by the NSW Department of Primary Industries (NSW DPI) and is funded by the Department of Regional NSW through the Snowy Hydro Legacy Fund, through to 2025.
The program is designed to build capability and accelerate Agtech adoption across the five target regions, comprising 11 Local Government Areas (LGAs). While the grants component of the program is limited to the target areas, the online resources and training platform are available to all primary producers in regional NSW.
How the regions were selected?
An independent report was undertaken before and after the first pilot program to determine the scope of the Farms of the Future program, and this guided the development of the current program.
The program's five target regions were selected following consultation with industry and are based on:
The Gross Value of Production (GVP) of NSW's four highest grossing agriculture sectors (Grains, Cotton, Red meat, and Tree crops)
The number of farm businesses in the region
The proximity to Department of Primary Industry (DPI) resources to ensure the locations could deliver the compulsory training component and be supported by local program representatives
The geographic and enterprise diversity in the region to ensure the locations had sufficient farm numbers and production levels across the four sectors to support a program of this nature.
For further information about the program visit the DPI webpages at Farms of the Future program. Alternatively, a list of resources can be found through the following links:
Please email fotf@dpi.nsw.gov.au if you would like access to the online training program that is available to all primary producers once they h registered their interest with the Farms of the Future program.
Website https://www.dpi.nsw.gov.au/fotf