Agtech Alley 2023 at the Australian National Field Days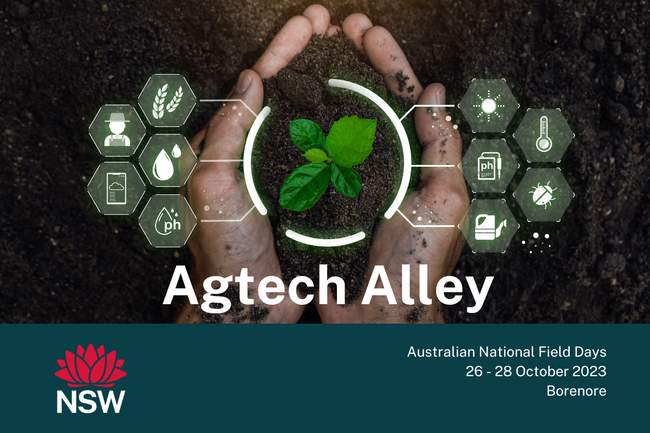 The event, hosted by the NSW Department of Primary Industries, featured a diverse range of presentations, and interactive sessions, all focused on the latest advancements in Agtech and connectivity solutions at the Australian National Field Days in Borenore, NSW, from October 26 to 28.
Agtech Alley showcased 20 leading suppliers under one roof and hosted over 25 guest speakers along with panel discussions. This drew in a varied audience interested in exploring solutions for improving on-farm connectivity, monitoring water levels, ensuring animal well-being, tracking fuel levels, strengthening site security, and optimising plant health. The event received highly positive feedback from participating suppliers, attendees, the ANFD committee and the wide range of guest speakers.
Speakers shared their expertise, providing primary producers with the knowledge and tools to capitalize on the potential opportunities that Agtech presents for their businesses. 
 Agtech Alley provided farmers with: 
Increased awareness of connectivity challenges and solutions: Attendees gained valuable insights into regionally specific connectivity challenges and the practical solutions available.

 

Greater understanding of Agtech and its opportunities: Primary producers deepened their knowledge of Agtech and understanding of how it can unlock new possibilities and drive productivity within their operations.

 

Opportunities for networking and connection: The event provided a platform for primary producers, suppliers, and other stakeholders to connect, fostering collaborations and share knowledge.
Encourage Agtech adoption: By delivering relevant content and facilitating direct engagement with suppliers, the Agtech Alley aimed to overcome barriers to Agtech adoption, making it more accessible for primary producers.

 
Businesses interested in participating in future Agtech Alley events, need to register their interest by emailing fotf@dpi.nsw.gov.au
Exhibitors in 2023