Experience the Agtech Revolution: Smart Pump Solutions to Boost Your Farm's Productivity.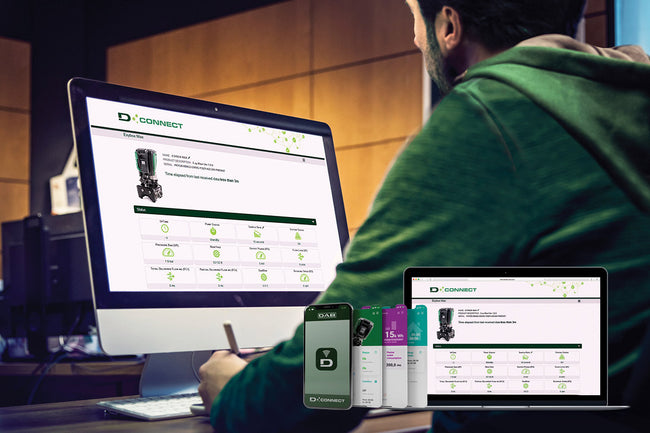 Are irrigation challenges affecting your crop yield and causing unnecessary stress? Irribiz, a leading provider of smart agricultural solutions, has the answer.
Irribiz use innovative technologies that have been designed to address a wide range of watering issues, empowering you to cultivate high-quality raspberries, blackberries, blueberries, or strawberries on your prime farmland.
Introducing D Connect, the IoT-enabled pressure pump system from renowned Italian pump manufacturer DAB. This game-changing technology incorporates advanced algorithms and data analytics, utilising sensors that monitor pressure, flow rate, and energy consumption. It then relays this data to a cloud-based monitoring system designed exclusively for pumps. With its user-friendly dashboard and smartphone app, D Connect seamlessly integrates with your existing farm Wi-Fi network, allowing you to manage your irrigation system from anywhere, at any time.
Now, primary producers like you can have real-time visibility into the performance of your pumped water system. You can track water usage, monitor pump performance, and get immediate updates on any potential problems. And the best part? D Connect doesn't just alert you when something goes wrong—it also provides predictive analytics that can help you prevent issues before they occur.
We caught up with Stuart Thomas, a satisfied farm owner. He couldn't hide his enthusiasm for the transformative power of D Connect:
 "With the connected pump from DAB, we've become proactive. We can now anticipate issues like pipe bursts and pressure loss during busy periods".
In the past, discovering a pipe burst in his drip irrigation system was only possible when the berries failed to grow as expected. But thanks to D Connect, Stuart now has an advantage. He can anticipate and address issues early. This prevents loss or damage to his precious crops before it occurs. This remarkable system also helps him monitor tank levels, a critical aspect, especially during water-scarce summer months.
Mark Russell, a seasoned Service Engineer at Irribiz, shared his thoughts on how D Connect empowers him to better support customers in the field:
"The D Connect system simply works. We can witness problems unfolding in real time, which is a luxury not often found on conventional farms. As soon as an issue arises, we receive an email notification on our service phones, allowing us to swiftly communicate with farmers who have access to the same information on the dashboard."
This seamless collaboration significantly enhances their service capabilities. Now, they can provide timely assistance with the right tools, reducing unnecessary trips back and forth to the workshop. This means faster resolutions for farms in need. Additionally, the data logging feature of D Connect brings another advantage. It allows both parties to review historical records of pressure fluctuations and amperage spikes. This provides valuable insights, enabling users to track and analyse data from up to twelve months back.
Seize the opportunity to revolutionise your farming operations with D Connect. Our service isn't just ground-breaking, it's versatile and compatible with a variety of pump models in the DAB collection. Whether you choose the revolutionary Esybox Max, the efficient boosting sets, the reliable NKVE vertical multistage boosters, or the powerful Centrifugal End suction pumps for heavy lifting from dams, D Connect will take your farm's efficiency to the next level.
Discover how you can unlock the potential of smart pumping solutions through the Farms of the Future program. Visit DAB PUMPS OCEANIA — NSW Department of Primary Industries for more information or give us a call at 1300 D PUMPS. Embrace Agtech, leverage IoT, and witness a new era of efficiency and productivity in your farm operations. Watch Video