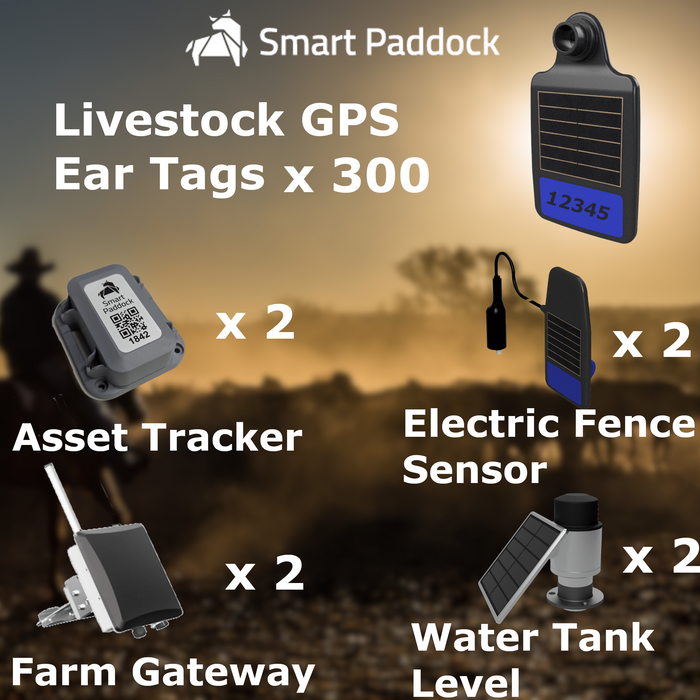 Bluebell Smart GPS Ear Tags IoT Bundle 300
Catalogue Number
BluebellTPBase300
Original price
$20,690.00
-
Original price
$20,690.00
300 GPS Smart Ear Tags, 2 Water Tank Sensors, 2 Farm Asset Trackers, 2 Electric Fence Sensors, 2 Farm Outdoor Network Gateways. Access to mobile phone app and web dashboard. Note that the relevant device monthly subscriptions are required.
Comments | Variations
Each Ear Tag requires a subscription (BluebellSub2). The Water Tank, Electric Fence, Asset Tracker sensors will require subscription (SPSensorSK5) per device. Outdoor Farm Network Gateway will require subscription (SPGatewaySub25) per gateway.
Management Category
Animal Management
Asset Management
Connectivity Solution
Water Management
Monitoring Category
Asset
Electric Fence
Health
Level
Movement
Site security
LGA Supported
Armidale
Ballina
Byron
Cabonne
Carrathool
Griffith
Leeton
Lismore
Moree Plains
Narrabri
Orange